Scotland's wholesale industry focuses on collaboration as SWA rallies its membership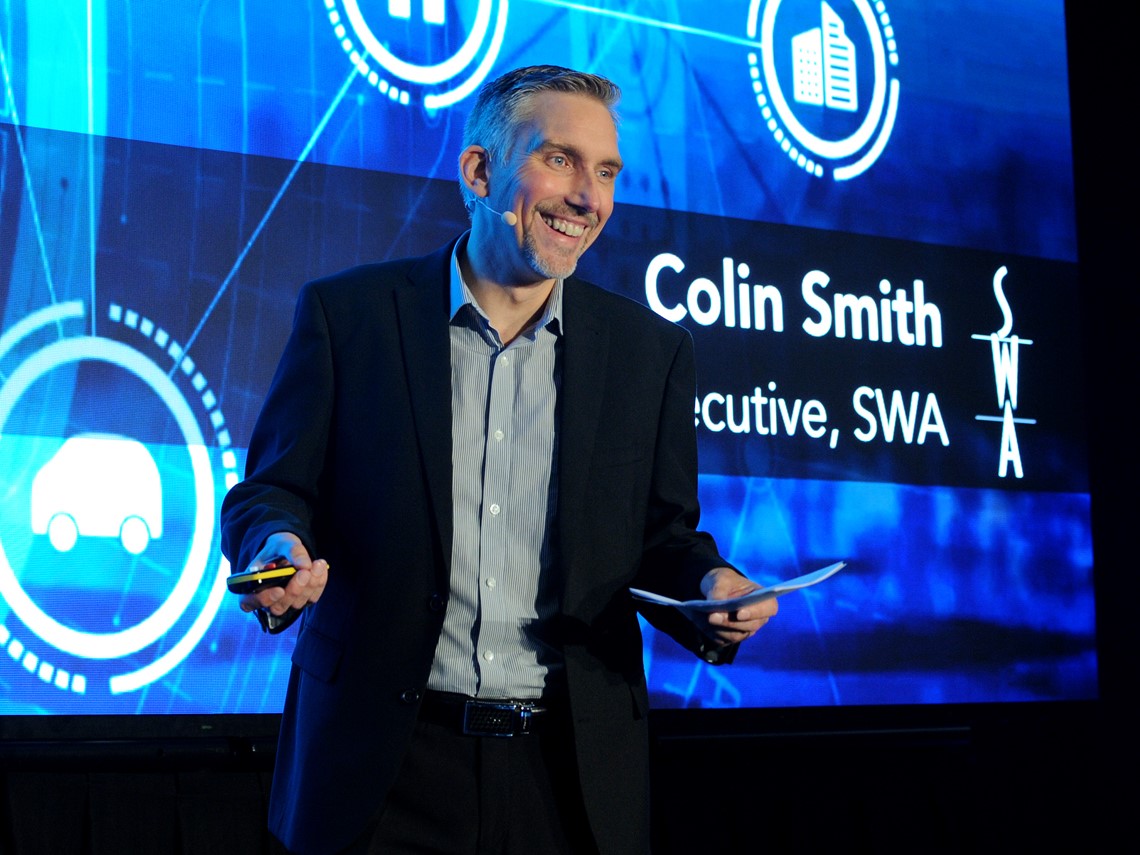 Colin Smith, chief executive, Scottish Wholesale Association
Making the wholesale industry an attractive one to work in by creating a legacy that will inspire the next generation will be the future focus of the Scottish Wholesale Association with chief executive Colin Smith telling last week's annual conference that training, business building, and lobbying and legislation will be at the forefront of the trade organisation's revitalisation.
"Wholesalers deliver £2.9 billion to Scotland's economy and while we're a huge industry, wholesale outlets have halved in the past 15 years – that's why we need input from our members, both wholesalers and suppliers, to ensure that our trade association remains vibrant and relevant. A stronger association gives us a stronger, louder voice and a much bigger opportunity for growth and change."
Smith said that the creation of a Training Academy would enhance skills within the wholesale sector, raise standards and promote wholesale as a viable career path. "This is about creating a highly trained wholesale and distribution workforce in Scotland, where our staff aren't just box-shifters but skilled people who will be the future leaders of our industry," he said.
"This is our competitive advantage and the centrepiece of SWA's vision into which everything else feeds – it is the biggest return on investment for our industry. It will create SWA-accredited apprenticeships, a redesigned mentoring programme and use technology to provide a modern academy that transcends online as well as face-to-face training."
Collaborating with other trade associations and stakeholders will also form a key component of the SWA's work in the future. Smith said: "We have four trade associations with us at conference – Scotland Food & Drink, the Scottish Tourism Alliance, Scottish Grocers' Federation (SGF) and the Federation of Wholesale Distributors (FWD). All of the work we are doing together benefits SWA members."
Smith referred to ongoing areas which affect members, including the much-publicised deposit return scheme (DRS) – the SWA sits on the implementation advisory group.
SWA also sits on the new national board that has been created to oversee the delivery of an ambitious plan to boost food tourism in Scotland by £1 billion. "We are working with key stakeholders to help deliver Ambition 2030, the Scottish Government-supported initiative to double Scotland's food and drink turnover to £30 billion by 2030."
The challenges that all SWA members face were not restricted to the "cumulative and burdensome legislation coming out of Holyrood and Westminster", Smith pointed out. "There's the cost of training and retaining staff, the speed of change in technology and the ever-increasing question of where to invest."
Unveiling the SWA's new vision statement, he said: "Our vision is about standing for everything that is great about wholesale, protecting our industry and our members' voices, giving them a return on investment, providing with opportunities to network and placing our people at the heart of everything we do.
"Through training, trust and building relationships, the SWA creates a stronger, well connected, Scottish wholesale industry. Where all food and drink distributors can unite with one shared voice."
Meanwhile, Julie Dunn, SWA president and operations director of Lanarkshire-based Dunns Food and Drinks, urged members – wholesalers and suppliers – to get more involved in helping to shape the Scottish Wholesale Association's strategic vision.
Dunn said that the core principles of collaboration, consultation and communication – the three Cs – would ensure that members, their interests, needs and future success were protected under membership of the SWA.
But she warned that members must get involved with the association to help it stay strong and move forward. "We need you to participate," she said. "My job, along with our Council, is to safeguard the SWA and I ask you, 'What can you do for your association?'
"Consider SWA when you are building your succession planning and look beyond your own diary commitments when we hold events – who in your business might benefit from attending? And wholesalers, we need to increase our engagement with each other and our suppliers."
For the first time, the conference featured a well-attended Producers' Exhibition – a collaboration with industry organisation Scotland Food & Drink.
The exhibition, part of the new SWA conference initiative Keeping Scotland Local, provided 20 local producers and suppliers with an opportunity to meet key buyers, decision-makers and owners of SWA member wholesalers.
Attracting industry leaders, entrepreneurs and senior executives from all corners of the wholesale supply chain – both at home and overseas – the conference heard from: Dawood Pervez, managing director of Bestway Wholesale; Colin McLean, chief executive of Dundee-based Spar wholesaler CJ Lang; Iain McPherson, regional managing director (Scotland), Matthew Clark; and Chieh Huang, chief executive of the US-based online wholesaler Boxed.
Other speakers at the conference included: Paul Miller, co-founder and chief executive of Fife-based distillery and brewery Eden Mill; Marc Crothall, chief executive of the Scottish Tourism Alliance (STA); Josh Clifton, commercial innovation manager of industry research and insights specialist, HIM; Ross Mackay, co-founder of Daring Foods, a Glasgow-based start-up selling plant-based meat alternatives; Nigel Holmes, chief executive of the Scottish Hydrogen & Fuel Cell Association; and Fiona Speakman, client director, CGA.
Glenn Tunstall, a former Metropolitan Police borough commander and now director of Merida Consulting, closed the conference with a motivational presentation focusing on the importance of people in all organisations.
The conference – entitled What's Next? – incorporated a number of panel discussions with business sessions designed to enabling greater business-building opportunities between members. There was also a business-building and networking event where wholesalers and suppliers had the opportunity to meet and share information during interactive sessions.