£15m Scottish Wholesale Food & Drink Resilience Fund Opens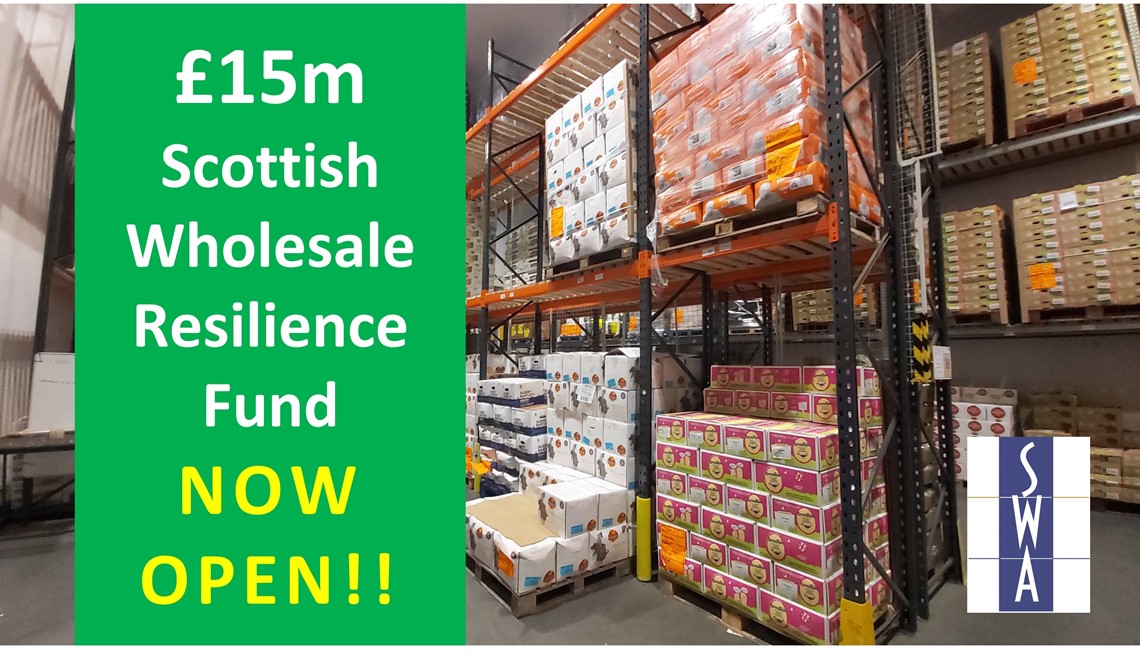 SWA is delighted to welcome the launch of a second round of the Scottish Wholesale Food & Drink Resilience Fund and which is now fully open for online applications. We are extremely pleased to see that all our lobbying efforts have paid off and a big thanks is due to all members who have shared their facts and figures with us and the Scottish Government. 
The £15 million Fund is split into two parts but using one application to apply for both. Wholesalers can apply for either one or both parts of the fund so long as they meet the qualification criteria for each part.
The two parts are designed to provide:
A) £10 million of support for food & drink wholesalers encountering hardship as a consequence of the public health restrictions imposed on hospitality and on-trade during the period from January 2021 to August 2021
B) £5 million provided to support food and drink wholesalers affected by the emergence of the Omicron variant and related public health restrictions on hospitality and the on-trade that were introduced in December 2021 and continued in January 2022
Definition of a Wholesaler
The fund is targeted at food and drink wholesalers who sell food and drink into the hospitality sector and on-trade. For the purposes of this fund, food and drink wholesale must be the main primary part of the business, equating to 80% or more of business turnover, and is defined for the purposes of this fund as being a route to market in the consolidation and distribution of multi-supplier food and drink products for onward trade resell.
Qualification Criteria
Applicants who fit all of the following criteria will be eligible to apply for both or either time periods outlined in part a) and part b) above. Those eligible are food and/or drink wholesalers:
whose business is exclusively or mainly wholesale (as defined above), equating to 80% or more of business turnover. If other activities that are not deemed food and drink wholesale make up more than 20% of a business then they will be ineligible for this fund;
are based in Scotland;
who are a classed as small and medium-sized enterprises (SMEs)
who have seen a fall in sales by:

a) 20% or more in the period January 2021 to July 2021, compared with same period pre pandemic January 2019 to July 2019; and/or
b) 20% or more in the period December 2021 to January 2022, compared with same period two years ago (pre-pandemic) December 2019 to January 2020; and
who have experienced or are experiencing hardship evidenced by a shortfall in their ability to cover fixed costs as a result of the fall in sales for either or both of the time periods outlined above.
While the focus of the support is on SME's, SWA have been fighting hard for our larger members too and Scottish Government agreed that where an applicant does not meet the definition of an SME, and where funding allows, then consideration may still be given for a business to receive a discretionary payment if they can evidence a shortfall in meeting fixed costs and a reduction in turnover of 30% or above compared to the same periods in 2019.
The grants, calculated on a "case by case" basis, are to help cover up to 100% of any shortfall in fixed costs and extraordinary costs covering the periods outlined above. Should, the total sum applied for in the fund exceed the £15m that is available, all grants would be capped or scaled to fit the available sum.
Evidence Required
Applicants must provide their last three years of financial accounts, to prove previous business viability.
Management accounts for the time periods being applied and the comparative time period pre-pandemic.
The attached spreadsheet, which summarises your management accounts for the periods in question and allows uniform analysis of applicant's figures.
Application Process
All the evidence outlined above should be emailed to: foodanddrinkwholesalefund@gov.scot
The fund will close for applications at 23:59 on Sunday 13 February. A panel, which includes representatives from Scottish Government, SWA and an independent panelist, will then begin reviewing the applications on a case by case basis.
SWA hope payments can start being made by Scottish Government in the first weeks of March but could take up to 4 weeks from review.
Full fund details and application process can be found here:
https://www.gov.scot/publications/scottish-wholesale-food-and-drink-resilience-fund-form-and-guidance/