Sustainability & Decarbonisation
SWA Lead Wholesale Sector on Journey to Net Zero
This page, and the tabs below, provide our members and the wholesale sector with the analysis, tools, case studies and resources required to understand what's needed for wholesalers to achieve Net Zero by 2045 - or earlier. With reports outlining the Scottish wholesale sectors emissions, barriers, calculator tool and SWA's 'asks' of Governments to enable a net zero 'just transition' for our sector. 


Fleet Decarbonisation: Volvo EV Truck Trial Case Study
JW Filshill, Tennent's, part of the leading drinks company C&C group, and United Wholesale Scotland feature in this case study about the SWA electric HGV trial in partnership with Volvo Trucks. Read more about what we learned, and the remaining barriers to HGV decarbonisation that must be overcome.


Fleet Decarbonisation: Car Fleet Transition Case Study
Lomond Fine Foods, Dunns Food and Drinks, and United Wholesale Scotland have transitioned their car fleets to electric in recent years. Find out more about their motivations, the results, and what they learned in the process.




Greencity lives up to name with energy-saving switch
Hear from SWA member Greencity Wholefoods on how they accessed support from Business Energy Scotland to make the move to solar power.
Help for your business
Business Energy Scotland is funded by the Scottish Government to provide free, impartial support and access to funding to help small and medium-sized enterprises save energy, carbon and money
Whether you are just starting out on your energy-saving journey and need some pointers or are looking for expertise and funding to support your current plans, our team of experienced business advisors and energy-saving consultants are here to help. Get in touch today.

SWA has launched two reports to present our ambitious plans for the sector to reach net zero by 2040, in time for Scotland's net zero target of 2045.
Decarbonising the Scottish Wholesale Sector explores the sector's carbon emissions and the motivations, and barriers to taking action on climate change, and the support needed in order for the sector to be able to achieve net-zero emissions.
The Scottish report has been produced alongside a UK Wholesale Sector Net Zero Roadmap, developed in collaboration with FWD (Federation of Wholesale Distributors).
The UK Wholesale Sector Net Zero Roadmap consists of three key elements: a calculation of carbon emissions from the wholesale sector; a bespoke carbon calculator tool which is free for all SWA and FWD members to use in order understand their own emissions; and a comprehensive step-by-step climate action guide to help wholesalers reduce carbon and ultimately reach net-zero targets.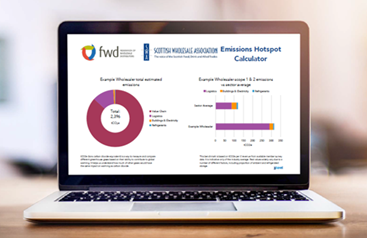 Wholesale Emissions Hotspot Calculator
This tool is intended for use by members to form the first part of their journey to net zero, by identifying emissions hotspots and key actions.
It will indicate where the largest sources of the user's emissions come from, it is not intended or designed to be a carbon calculator for accurate carbon reporting.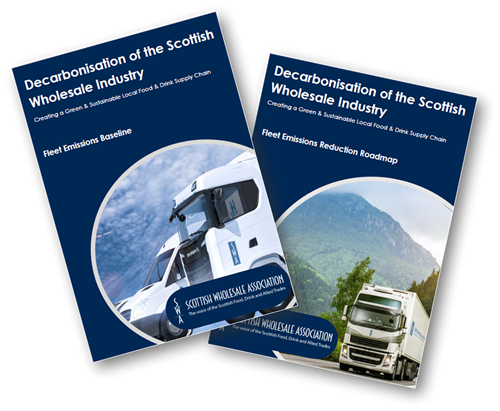 SWA Launch Fleets Decarbonisation Report & Fleet Roadmap to Net-Zero
SWA are delighted to share the findings of the first phase of our 'Decarbonisation of the Wholesale Sector' project.
The  reports focus on our vehicles and fleets, calculating and reporting on our sector's 'Fleet Emissions Baseline' and the production of a 'Fleet Emissions Roadmap' to Net Zero. Phase two of our project will focus on our buildings and cold storage and phase three our people/employees and how they move around to/from/within their job.
This project is one of the most detailed undertaken by any sector and is based on real data and evidence, compiled direct from our wholesale members.
The intention of the reports is twofold. Firstly they are designed for our members to help them cut through the vast amount of information that is available out there and to assist them in focusing their minds on the actions they can take to start their own net-zero journeys. Secondly it is designed for Scottish Government and their agencies, to highlight not only the scale of the challenge the food and drink wholesale sector has in our transition to net-zero but how we're willing to be partners and face the challenges together. The Fleet Emissions Roadmap report sets out the need for Scottish and UK Government support along the way. 
While the reports were due out in August the ongoing impacts of Covid and EU Exit, on our sector, meant securing the necessary member data took longer than anticipated. SWA have also sought to take into account the extremely fast moving character of the technology market so the reports have been updated to reflect developments. SWA have been working with industry partners to ensure that the reports are as accurate in its' timescales and challenges as we can be. 
The reports were undertaken by an SWA employed new graduate from Strathclyde University and who was brought in through the Bright Green Environmental Placement Programme. As a result of the reports, the graduate is a finalist in the forthcoming Environmental Placement Programme Awards 2021. 
The key findings of this report include:
The Scottish wholesale industry fleet has a total of 2,198 vehicles.
Our baseline vehicle carbon emissions equate to 111k tonnes of CO2 per annum.
75% of our sector's total fleet emissions are from HGV's.
HGV's account for 48% of our total fleet and represent more than 3% of the total HGV's registered in Scotland.
There are currently no commercially viable zero emission HGV's available in the UK.
Hydrogen powered vehicles would appear to be the only commercially viable option for HGV's.
The prohibitive cost of vehicles/adaptation, and lack of fuelling infrastructure, is preventing wholesalers transitioning to hydrogen.
Vans account for 16% of the total fleet and contribute to 17% of total fleet emissions.
46% of our vans are refrigerated but there are currently no commercially viable electrically refrigerated vans available with the required payload.
There are simple steps wholesalers can start to take in the transition to net-zero but the impactful and meaningful ways of reaching net-zero require investment beyond the means of individual wholesalers and will require government incentive and support. 
The key asks of the Scottish Government include:
SWA seek support from Scottish Government to continue the work of our 'Decarbonisation of the Wholesale Industry' project.
Financial support for wholesalers to participate in, or implement, a Wholesale Industry wide driver efficiency training programme to reduce emissions.
Financial support for implementation of a Scottish Wholesale Association Fleet Audit Service.
Support for research into the establishment of shared green infrastructure clusters.
Grant and financing support to enable the transition to green fleets.
Scottish Government recognition of SWA, and our members, as lead partners in decarbonising the vehicles and fleets of Scotland's food and drink sector. Supporting us in the research and trial of solutions to identified challenges.
SWA and our members have already developed strong relationships with the Scottish Government and their relevant agencies, including Transport Scotland (TpS) and Scottish Enterprise (SE). SWA have also formalised relationships with some of the future technology developers, including Scottish Power, ULEMCo, Hydrogen Accelerator and are a partner with Arcola Energy in the Scottish Hydrogen Fuel Cell Freight Trial (SHyFT).  
This is an extremely exciting time for SWA and our members as we help shape the future sustainability of our sector and Scotland's food and drink supply chain.
Download All Our Decarbonisation Reports Below: