Scotland's wholesale sector on the road to net zero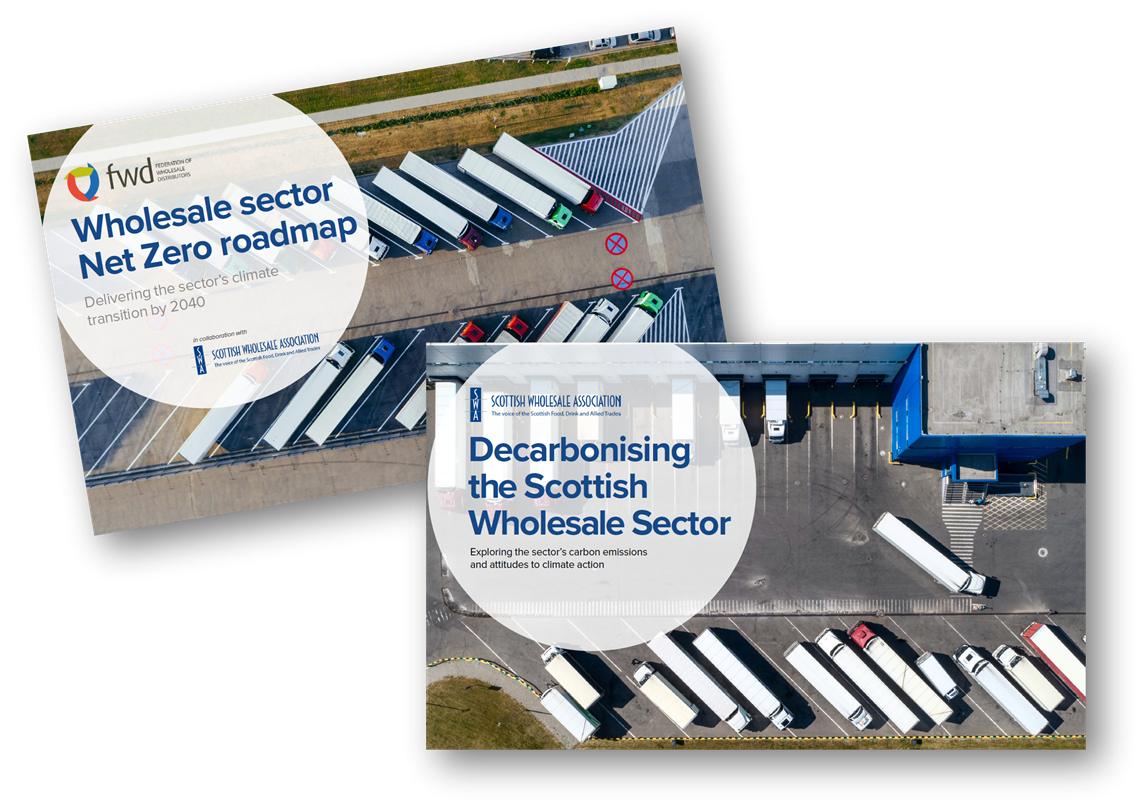 The Scottish Wholesale Association (SWA) has set out ambitious plans to reach net zero by 2040, in time for Scotland's net-zero target of 2045, in a new report, 'Decarbonising the Scottish Wholesale Sector', which explores the sector's carbon emissions and attitudes to climate action.

SWA's report is launched alongside the UK Wholesale Sector Net Zero Roadmap, developed in collaboration with FWD (Federation of Wholesale Distributors) and was unveiled at the FWD conference on 29 June.

Nine months in the making, the project highlights how the Scottish wholesale sector is stepping up to the challenges presented by climate change and joining the UK-wide sector ambition of reaching net zero by 2040.

The UK Wholesale Sector Net Zero Roadmap consists of three key elements: a calculation of carbon emissions from the wholesale sector; a bespoke carbon calculator tool which will be free for all SWA and FWD members to use in order understand their own emissions; and a comprehensive step-by-step climate action guide to help wholesalers reduce carbon and ultimately reach net-zero targets.

The report reveals that the UK wholesale value chain (which consists of manufacturers, wholesalers, retailers and foodservice outlets) was responsible for producing 18 million tonnes of CO2 equivalents in 2021.

However, across the UK, wholesalers are only directly responsible for approximately 4% of these in the operation of their businesses (referred to as Scope 1 & 2 emissions), with the majority in the chain upstream from manufactures and suppliers (referred to as Scope 3 emissions). This highlights the critical need to work together across the food and drink supply chain to reduce climate change emissions.

The 'Decarbonising the Scottish Wholesale Sector' report highlights the carbon emissions from Scotland's wholesale sector, the motivations, and barriers to taking action on climate change, and the support needed in order for the sector to be able to achieve net-zero emissions.

Comparing the results of the Scottish wholesale emissions analysis with that of the UK-wide wholesale sector shows that overall, the profile of emissions for UK-wide and Scottish wholesalers are similar.

The majority of Scope 1 emissions for Scottish wholesalers are from vehicle fleets, which aligns with the wider UK emissions analysis. However, Scottish vehicle emissions are a slightly higher proportion of Scope 1 emissions. It further shows that there are differences in emissions for different sizes of wholesalers, with vehicle emissions accounting for a higher proportion of emissions from SMEs.

The SWA research for north of the Border identifies key sources of operational greenhouse gas (GHG) emissions for the sector as road transport, particularly HGVs, at 67.3% followed by electricity at 17.7%, refrigerants at 6.5% then use of fuel to heat buildings at 8.6%.

It is clear that the Scottish picture reinforces the importance of addressing logistics emissions in order to reach net zero.

While outlining the actions wholesalers need to take in order to decarbonise their operations and value chains, SWA asks the Scottish Government for capital cost support for a swift vehicle fleet transition, investment in zero-emission transport infrastructure, and support for a rapid transition to renewable electricity.

Colin Smith, SWA chief executive, commented: "The SWA and our members are sector leads in decarbonising our fleet emissions within Scotland's food and drink supply chain.

"In this report we outline the primary sources of operational GHG emissions within our sector. We also highlight by region and business size the key motivations for member action, the barriers that we must overcome, and crucially the support needed if we are to make decarbonisation of the wholesale sector a reality by 2040 – our net-zero ambition as a sector across the UK – and in time for Scotland's net-zero target by 2045.

"This report is an important step on our sustainability journey, during which the SWA will work hard to drive a just transition to a net-zero economy that can benefit all of Scotland's wholesale sector.

"While the report shows that wholesalers overwhelmingly are willing to take action to achieve a just transition to net zero, the upfront capital investment required is the key barrier which is why that is one of our key policy asks of government."

At the FWD, chief executive James Bielby added: "It is clear wholesalers are acting across all areas of their business, but more help and encouragement is needed to enable the sector to fully measure progress towards net zero. This is no longer an added extra, it's a business essential for a wholesale channel which is sustainable – in both senses of the word."

FWD has been invited to present its report to the Department for Environment, Food & Rural Affairs and Department for Energy Security and Net Zero.

In Scotland, SWA sits on the Scottish Government's Zero Emission Truck Taskforce in recognition of its ongoing work with members as part of its 'Decarbonisation of the Wholesale Industry' project.

FWD commissioned sustainability consultant 3Keel to partner on this project and worked in collaboration with the SWA.